Pepperstone is a large forex broker found in Australia in 2010. It has opened an office in London in 2015 for European clients and regulated by UK FCA and Australian ASIC.
| Open Account | Support | Withdrawal | Deposit | Execution | Spread | Overal rating | |
| --- | --- | --- | --- | --- | --- | --- | --- |
| | | | | | | | |
Account
Pepperstone offers 3 types of accounts with unique names: Edge Standard Account, Edge Razor Account, and Edge Swap Free Account. The Edge standard is the account for the regular trader it has no commission and 1.2 points spread for EURUSD. The Edge Razor Account is, in fact, an ECN account with a different name. It offers low spreads with a commission - for example for EURUSD you can have spread as low as 0.1 points and a commission of 3.5$ in direction for 1 lot. The Edge Swap Free account is an account dedicated to Islamic clients.
Razor
Standard
Average EURUSD spread
0.0 - 0.3 pips
1.0 - 1.3 pips
Commission*
From GBP4.59 round turn 100k traded
$0
Rollover swaps
Refer to your trading platform for market rates
Refer to your trading platform for market rates
Best for
Scalpers and algorithmic traders
New traders
The minimal deposit that you need for a live account in the broker is 200 AUD.
Forex instruments info
Spread and Execution review
In most of the trading styles/strategies which involve many trades, the spread is the main factor for keeping low costs. You can get your trading log (even if you have only a demo account) and calculate the average profit per trade. Then you will see how a small change in the spread can affect your trading results. It can turn a winning strategy into. The purpose of this Pepperstone review is not just to list all the options offered by the broker, but also to conduct tests that reveal as many details of the trading conditions.
As we can see from the chart below the spread is significantly higher at the rollover hours and the average spread at that zone 2.03 points. This is normal because the liquidity providers increase the spread in order to protect themselves against speculations close to the rollover moment. The other reason for that increase in the spread is that this is a moment with extremely low liquidity.After that period in the Japan and AU sessions, the spread drops to 0.15 - 0.16 points. In the EU session, the average spread drops to 0.11, and in the US session drops even lower - to 0.06-0.07 points.The average spread for the entire interval is 0.19. Of course, these tests were made on an ECN account and we need to add 0.52 points commission. This makes the average spread at 0.71, in the EU session 0.63, and in the US session 0. 59. This makes Pepperstone spread one of the best in the market.
24 hours spread in points for EURUSD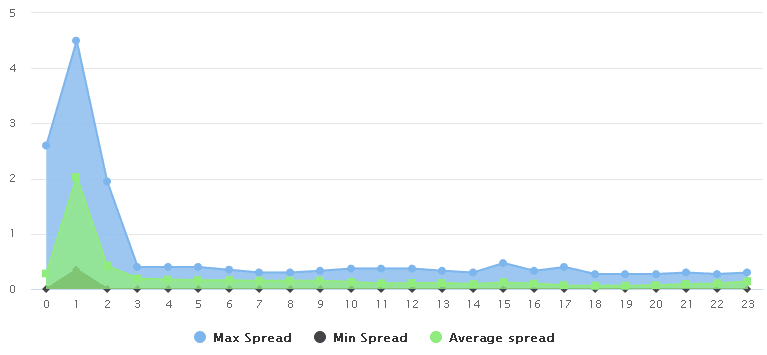 Slippage review
We made a slippage test in this Pepperstone review with 7547 trades. The trades were executed during 4 days and they cover the whole trading interval. There are moments with low liquidity, with high volatility and so on. Our goal was to get the whole trading hours.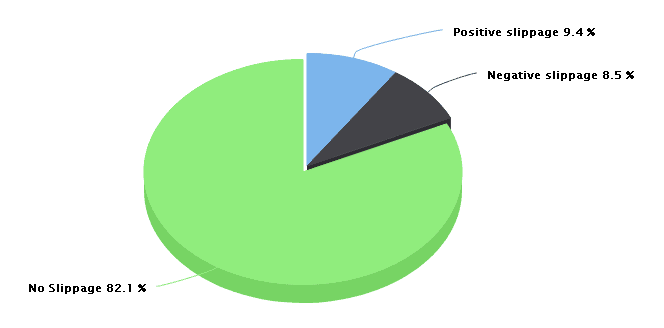 From 7547 trades, there were 6192 trades without slippage, 644 with negative slippage, and 711 with positive slippage. Negative slippage is when you are executed at a worse than requested price, and positive slippage is when you are executed at better than the quoted price. In theory, these values must be close to each other in order to have a good broker. In this case, we have excellent execution and we have more trades with positive slippage.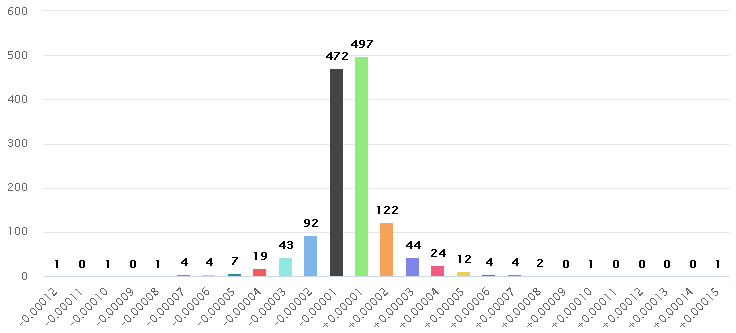 In the slippage distribution chart, we can see that the majority of the slippages are between -0.00001 and +0.00001 which means that the slippages are very very low. They are absolutely normal for the market because there is technological time for our order to go to the trading server and during that time small changes to the price may occur. In our opinion, this slippage distribution is close to perfect.
Execution time review
During all the 7547 trades we also made an execution time statistics. The idea of such statistic is not to show how fast the trading server is, because this may vary to the location or the server and the client. Our goal was to detect how consistent that execution is. We recomend using only brockers with consistent execution.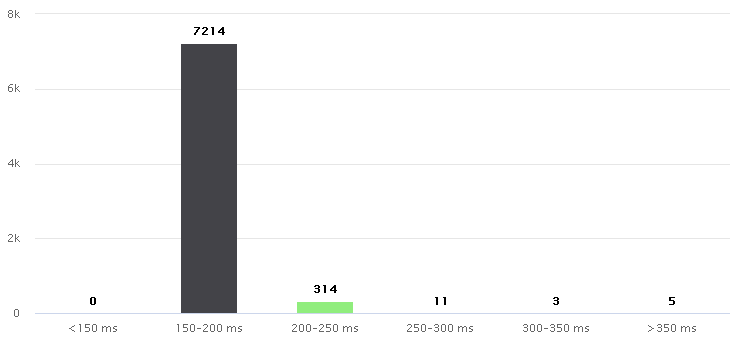 As we can see from the results we have 95.59% of the trades executed in 50ms diapason between 150 and 200ms. If we widen that diapason from 150 to 250 we will have 99.75% of the trades executed in 100ms difference. These are very consistent and good results and show how consistent and reliable is the execution from Pepperstone.
Pepperstone Supported instruments :
For the forex market, the broker offers all the majors, all the minors, and several exotic crosses.
The broker supports 14 CFD with no dealing desk and no commission.
You can trade commodities like coffee, cocoa, cotton, orange juice, and metals like gold, silver, platinum, and palladium without commission.
There is also cryptocurrency support for Bitcoin, Bitcoin Cash, Ethereum, Dash, and Litecoin against the US dollar with leverage up to 5:1.
Forex
| | | | | |
| --- | --- | --- | --- | --- |
| | Razor | Razor | Standard | Standard |
| | Min | Avg | Min | Avg |
| EURUSD | 0 | 0.13 | 1 | 1.13 |
| GBPUSD | 0 | 0.44 | 1 | 1.44 |
| USDJPY | 0 | 0.25 | 1 | 1.25 |
Index CFDs
| | | |
| --- | --- | --- |
| | Average spread in market hours | Average spread outside market hours |
| AUS200 | 1.03 | 2.96 |
| EUSTX50 | 2.00 | 2.00 |
| FRA40 | 1 | 1 |
| GER30 | 1 | 2.53 |
| IT40 | 10 | 10 |
| UK100 | 1.05 | 2.37 |
| US500 | 0.4 | 0.47 |
| NAS100 | 1 | 1 |
| US30 | 1.59 | 2.87 |
Metals
| | | |
| --- | --- | --- |
| | Average spread in market hours | Average spread outside market hours |
| XAGEUR | 0.5 | 0.98 |
| XAGUSD | 0.5 | 0.74 |
| XAUAUD | 0.5 | 3.11 |
| XAUEUR | 0.5 | 1.77 |
| XAUUSD | 0.5 | 1.00 |
Pepperstone Platforms
The available platforms in the broker are MetaTrader 4, MetaTrader5, and cTrader. They are available for all the OS environments. Probably in the future there will be more platforms, but at the time of this Pepperstone review , this is the list:
| | | | | | |
| --- | --- | --- | --- | --- | --- |
| | Desktop | Web | IOS | Android | Expert Advisors |
| Metatrader 4 | YES | YES | YES | YES | YES |
| Metatrader 5 | YES | NO | YES | YES | YES |
| cTrader | YES | YES | YES | YES | YES |
In addition to the MetaTrader platforms, the broker brings two additional tools for trading and analysis -Smart Trading Tools and Autochartist.
cTrader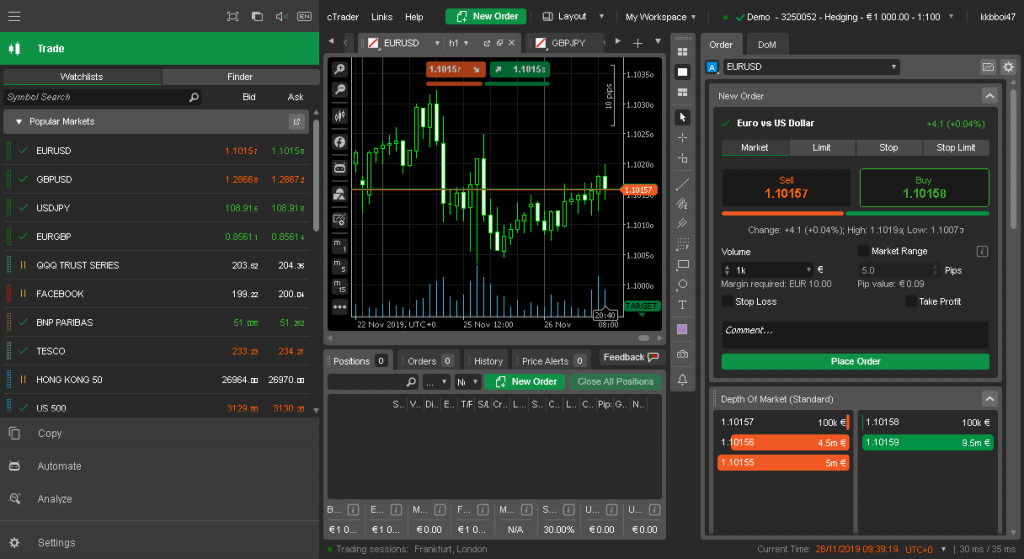 The cTrader offered by Pepperstone is one of the biggest competitors to Metatrader. It offers a simple user interface, but also offers powerful tools for analysis and algo trading. In the huge databank build by the cTrader community, you can find almost any tool you need for your successful trading such as indicators and trading robots.
Metatrader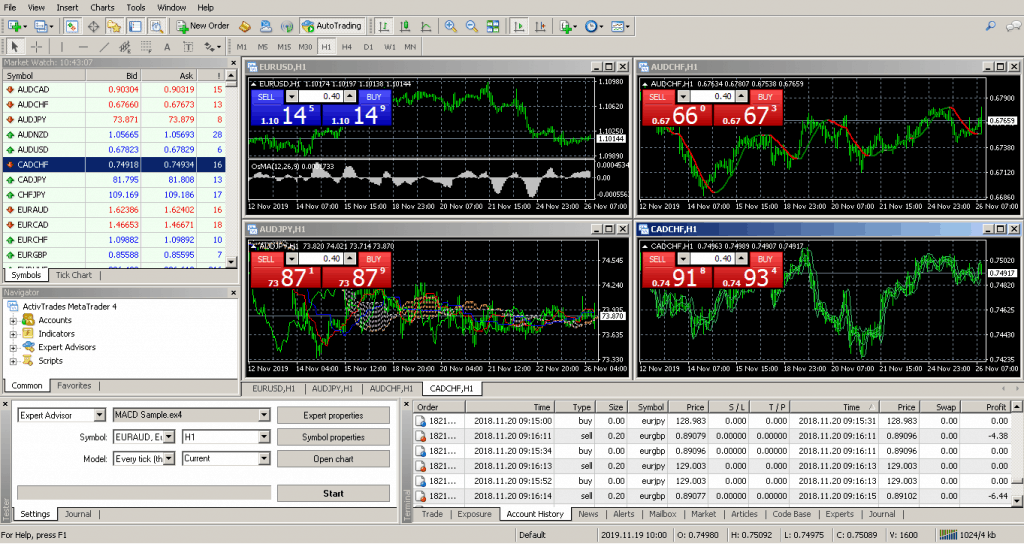 Metatrader is one of the most popular trading platforms used by brokers. It is popular because it offers so many things for the traders - expert advisors (trading robots), indicators, scripts, script language, an interpreter to be able to create your own. There is also a backtester that can help you to test the robots and indicators on historical data. The build-in VPS support can help the advanced traders to use trading robots or signals with the highest uptime possible for a low cost.
The social trading feature in MetaTrader is playing a major role also. It connects traders and investors and both of them need just a Metatrader and Metaquotes account. There is a big list of available signals to copy, also if you want, you can become a signal.
For the MT4/MT5 users, Pepperstone is offering an additional 28 trading tools including expert advisors and indicators. They allow basic trading functions that can make the trader's life easier, alarm settings, and different chart views. They also include autochartist, which is a popular indicator/service for analysis.
Conclusion:
In conclusion in this review, we can say, that Pepperstone is big reliable regulated Australian broker with European customer support, that offers competitive costs and fast execution. The fact that it supports 2 of the most popular trading platforms that are used by 2 huge trading communities makes the broker available for everyone and it is covering all needs of the traders.