About IC Markets
The company was founded in Sydney, Australia in 2007. The company name is International Capital Markets Pty Ltd. The main objective of wast to create a retail broker which can connect the individual traders and small companies to the trading solutions offered by big financial institutions. Through the years the broker became bigger and bigger and started to work with international clients from Europe and China. It is one of the brokers with one of the best trading conditions.
Pros
ASIC and FSA regulated
Low ECN spreads
Good platforms
1:500 leverage available
Lots of payment methods
Micro lots
PAMM
24/7 Support
Short summary
| Open Account | Support | Withdrawal | Deposit | Execution | Spread | Overal rating | |
| --- | --- | --- | --- | --- | --- | --- | --- |
| | | | | | | | |
Most important
| | |
| --- | --- |
| Headquarters | Australia |
| Regulators | ASIC, CySEC |
| Trading Products | FX, Equities, Commodities, Futures CFDs, Stocks and Bonds, Crypto |
| Demo Account | Yes |
| EURUSD Spread | 1 Point |
| Trading platforms | MT4, MT5 |
| Deposit methods | Wire, Paypal, credit card, Skrill, Neteller, UnionPay, Bpay, FasaPay, Poli |
| Minimum deposit | 200$ |
| Micro accounts | No |
| Swaps | Fixed |
| Rating | 9.4/10 |
How IC Markets operates
ICMarkets is a typical ECN broker that has spread as low as 0 pips from its liquidity providers. This happens because the bridges of the broker take the best values from all the providers and traders see the lowest ASK and highest BID. Of course, this spread is combined with a small broker commission.
As there is no dealing desk, this means that this broker is the best choice for all automated traders, scalpers, and all traders who depend on fast and quality execution without a dealing desk.
Is IC Markets safe or a scam?
IC Markets considered being a safe broker. It is regulated by CySEC and ASIC and constantly monitored.
Pros
ASIC and FSA regulated
Working from 2007
Global coverage
Is IC Markets legal?
IC Markets is a defiantly a legal forex broker. The company has licenses from the Australian Securities and Investments Commission (ASIC) and Cyprus Securities and Exchange Commission (CySEC) - two of the strongest regulators in the world.
The company regulated in Cyprus is established in order to onboard the European clients of the company. There is a guaranteed Investor Compensation Fund, which pays in case of bankruptcy of the company. This is very unlikely, but it is additional protection. There is a limit for these claims: the lower 90% of the assets or 20 000 EUR.
Whit the Australian license IC Markets serves to all other clients in the world. The client's money is segregated from the company's money which increases the protection of the clients.
Another protection for the clients of IC Markets is that the broker is a member of the Australian Financial Ombudsman Service (FOS). This institution could judge in case of disputes between IC Markets and the company clients.
Accounts
At the time of this IC Markets review there are 3 types of accounts: Metatrader standard, Metatrader ECN, and C-Trader ECN. The standard account has an average spread of 1.1 on EURUSD, but the ECN has a 0.1 spread with a 3.5$ commission in both directions which is lower than the standard account.
A big plus is that the minimum deposit is as low as 200$, and traders can open a micro-lots account to be able to accomplish much better money management with smaller capital.
The broker offers swap-free accounts for clients with Islamic beliefs.
The broker offers maximum leverage of 1:500 which is one of the highest in the forex market. Such high leverage is considered to be very risky, but on the other hand, this gives the trader the ability to choose how to use it.
The accepted currencies to open an account are USD, AUD, EUR, GBP, SGD, NZD, JPY, CHF, HKD, CAD.
Pros
Fast Account Opening
3 Account types
Good for all trading styles
Raw spread accounts
Micro Account and Islamic Account option
10 Base Account Currencies: USD, AUD, EUR, GBP, SGD, NZD, JPY, CHF, HKD, CAD.
Accepted Countries
IC Markets accepted almost all the countries like Australia, Austria, Bulgaria, United Kingdom, South Africa, India, France, Germany, Netherlands, Norway, Sweden, Italy, Denmark, United Arab Emirates, Saudi Arabia, Kuwait, Hong Kong, Thailand, and many others.
The countries that can't use IC Markets services are from:
North America: US, Canada
Middle East: Iran, Iraq
Africa: Ghana, Cote D'Ivoire, Cuba, Liberia, Niger, Togo, Zimbabwe.
How long does IC Markets withdrawal take?
All withdrawal requests are processed at 12 EST. If your request is after that time it will be processed in the next business day. The wire transfers usually take several days, but this depends on the banks involved and doesn't depend on the broker. All E-wallet withdrawals are processed on the same day. Sometimes there can be issues and the withdrawals can take 10-14 days and require additional documents, but this mainly depends on the correspondent bank network.
Fees
There are three main factors that slightly affect the frees and they are account type, platform, and region -jurisdictions.
| | |
| --- | --- |
| Pros | Cons |
| Competitive low-cost fees | can be different for different clients and account types |
| ECN and Standard account types | there is a fee for inactivity |
| Zero Withdrawal fee | |
| Micro lots | |
There are several types of fees when you trade forex. The first type of fee is connected with deposit/withdrawal options. IC Markets doesn't apply any additional fees for deposits and withdrawals at the top of their costs. The total deposit fee depends on the fee of your bank or card processor. It is the same with withdrawals. The withdrawal fee for bank transfer is 20 AUD.
The second type of fee is connected with your trading activity. Based on your style of trading could be the SWAP or spread more important for you. If you are an active day trader, the spread is more important. The spreads in IC Markets are very competitive - for example, the spread for EURUSD starts from 0.1 pips for ECN accounts. For standard account, the average spread for EURUSD is 1.1 pips.
If you trade an ECN account, you pay commission for every trade - the commission starts from 3.5 AUD for 1 lot (100 000 units), which is also below the average in the industry. If you chose the standard account, the trading fee is included in the spread and you don't pay an additional fee.
You can see the minimum and the average spread in the instrument tables below.
Instruments :
The broker supports over 60 forex pairs, 17 indices from across the globe, over 19 commodities, 120+ stocks from ASX, Nasdaq, and NYSE, 6 bonds.
From the cryptocurrencies, it supports: BTCUSD, BCHUSD, ETHUSD, DSHUSD, LTCUSD, XRPUSD, EOSUSD, EMCUSD, NMCUSD, PPCUSD
Forex Spreads:
| | | | | |
| --- | --- | --- | --- | --- |
| Symbol | Raw Spread | Raw Spread | Standard | Standard |
| | Min | Avg | Min | Avg |
| EURUSD | 0.0 | 0.1 | 1 | 1.1 |
| GBPUSD | 0.0 | 0.4 | 1.0 | 1.4 |
| USDJPY | 0.0 | 0.2 | 1.0 | 1.2 |
In the table above you could see the minimum and average spread for the three most trades pairs. You could see that for the ECN account they start from 0.0-0.4 pips and 1 pip for the standard account. These levels are below the average for the industry makes IC Markets a good choice for brokers with which you trade.
Commodities:
| | | |
| --- | --- | --- |
| Symbol | Min | Avg |
| BRENT | 0.030 | 0.050 |
| Coffee | 0.300 | 0.900 |
| Corn | 0.600 | 1.250 |
| Soybean | 1.350 | 1.770 |
| Sugar | 0.040 | 0.060 |
| Wheat | 0.700 | 1.270 |
| Cocoa | 4.000 | 5.000 |
| WTI | 0.040 | 0.050 |
IC Markets offers the most traded commodities and also some not so popular. With this list of offered commodities, you could better benefit from your trading analyzes and ideas.
Indices
| | | |
| --- | --- | --- |
| Symbol | Min | Avg |
| AUS200 | 0.950 | 1.120 |
| CHINA50 | 3.500 | 4.110 |
| DE30 | 0.950 | 1.000 |
| ES35 | 4.200 | 4.400 |
| US30 | 2.300 | 2.500 |
| US500 | 0.600 | 0.600 |
| UK100 | 1.000 | 1.000 |
| JP225 | 6.000 | 8.000 |
In IC Markets you could trade the biggest stock indices in the world. The spreads are relatively low and they are listed in the table above.
Cryptocurrency CFD
| | | |
| --- | --- | --- |
| Symbol | Min | Avg |
| BTCUSD | 5.000 | 10.000 |
| BCHUSD | 5.000 | 6.000 |
| ETHUSD | 4.000 | 4.500 |
| LTCUSD | 3.000 | 3.500 |
| DSHUSD | 4.000 | 5.000 |
| XRPUSD | 0.015 | 0.016 |
| EOSUSD | 0.160 | 0.160 |
| EMCUSD | 0.270 | 0.270 |
The cryptocurrency market is one of the hottest markets recently. IC Markets offers the biggest and most popular cryptocurrencies. With the high volatility, you could benefit from the increase in the price, but also as the brokers offer CFDs, you could go short and do profit from decreasing the price of any offered cryptocurrency. The spreads are very competitive and day trading of cryptocurrencies is also possible.
Tests conducted in this IC Markets review
Spread test
Since the spread is one of the most important things for a successful trade, it is always important to start by testing it. It is not enough to know only the maximum-minimum and average spread data provided by the broker, but a full test should be conducted for the entire time range to see exactly what the spread is at the time we intend to trade.
As we can see from the results the maximum spread reached is 3.65. This happened in the hour after the rollover and is completely normal- we can expect this at any broker. The maximum average spread of 1.6 pips was also reached in the same hour, which is pretty good for this time frame. We then see this average spread drop to 1.05 which is very close to the minimum of 1.00. The maximum drops to 1.2. These values remain until the end of the European session. At the beginning of the American session, the spread becomes even better gaining values of 1.03, 0.87, and 0.87 respectively for the maximum, minimum, and average. Although this is a standard account and does not use the best possible conditions, these results are impressive.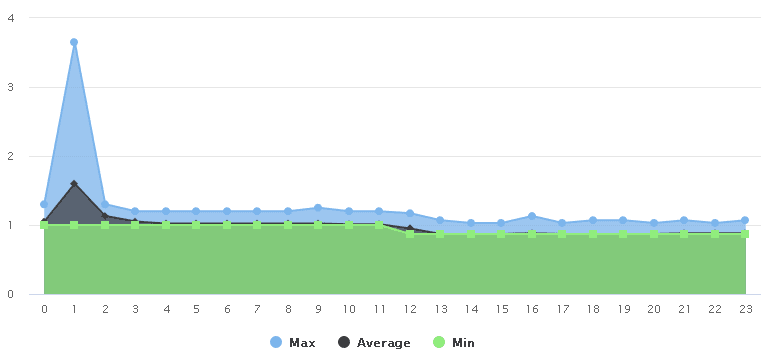 Slippage test
In this ICMarkets review, we made also a slippage test. The idea of such a slippage test is to show what execution we can expect after we make a market order. For that test, we made 9702 trades during 3 days evenly distributed in time. Most of the trades - 7167 (73.87%) of all were executed without slippage. We have 1288 (13.28%) trades with negative slippage and 1247 (12.85%) with positive slippage. In ideal conditions, we will have very close numbers for negative and positive slippage, and this is exactly what we have here. So in general the average slippage is close to zero.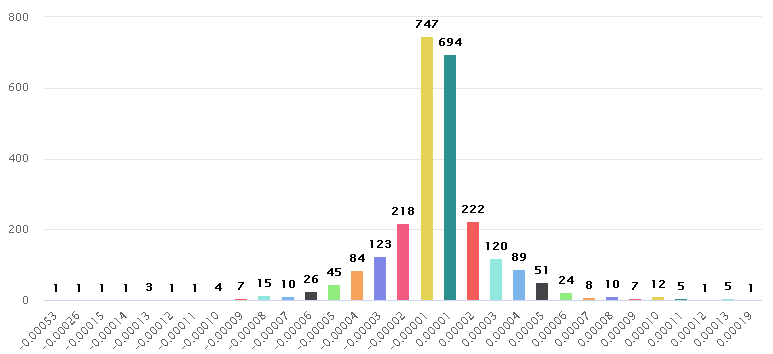 Execution time test
During all the 9702 trades test we also recorded the execution time for the trades. The idea of that is not to show if the server is fast or slow (because this also depends on our location , internet provider and hardware), but to show how consistent is the execution. Having consistent execution mens that the broker is not messing with your orders.
From the results we can see that the majority of the trades are executed in between 300 and 450 ms and only 541 (5.58%) trades were executed for more than 450ms. So for this test we can say that we have good consistent executuin.
Trading platforms :
For the windows desktop traders, they offer MetaTrader 4, MetaTrader 5, MT WebTrader, cTrader, cTrader Web, and cTrader cAlgo.
For the rest devices and operating systems they have: MT iPhone/iPad, MetaTrader WebTrader, MetaTrader Android, MetaTrader Mac, cTrader, cTrader Web, cTrader, Phone/iPad,cTrader Android.
The broker doesn't have its own platform but they cover all the essential environments that the trader will need. There are several options for automated trading - MT4, MT5, and the cTrader Algo.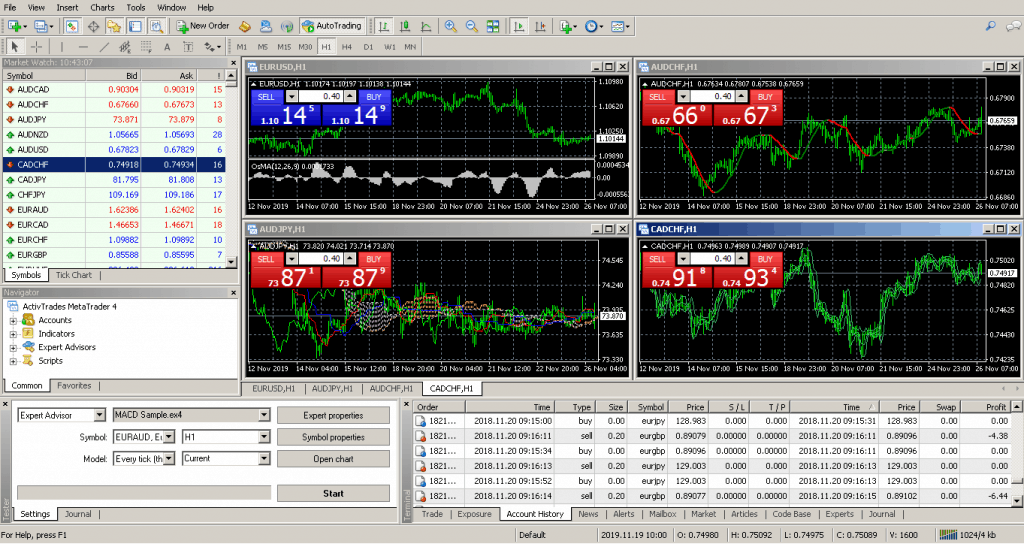 The MetaTrader platform is one of the most popular forex trading platforms and it comes with many advantages. One of them is the big trader's community at the websites like mql5.com where you can find many resources like indicators, scripts, or expert advisors that can help your trading. Of course, you can program your own, create quality backtests and automate your trading. You can take advantage of the social trading in the signals section, where the traders meet the investors. If you decide to use an automated element in your trading, you can also take advantage of the integrated VPS and make your expert run 24/7.
The PAMM accounts are also a good option for beginners. They also give good options for the advanced traders, because they connect the signal providers with the investors. They are easy and fast to set up, and in just a few months of successful trading, they can quickly find investors.
Support
Like most of the brokers, IC Markets offers 24/7 multi-language customer support with OK quality. There are many offices in different places so there is good global coverage. Maybe it is not so important, but it is good to mention that the support lines are free. There is also a live chat where people who are not very good at the supported languages can get the information they need.
Pros
Live chat
Support with good quality
Support in various languages
24/7 customer service
Conclusion :
In conclusion of this IC Markets review, we can tell that the broker is excellent forex and CFD broker which offers a big variety of trading instruments that can satisfy every beginner or more advanced trader. The fees and trading conditions are better than the average for the market.
The company is fully regulated in Australia and Cyprus. These are two of the best jurisdictions for forex with high protections of the clients. The main benefit of the Australian license is the higher leverage up to 500:1.
The clients of IC Markets could use the most popular forex platform in the world. For those who want something else, the broker offers C Trader, again with the same excellent trading conditions.
Support in case of a problem is easily reachable 24/7 via phone, email, or live chat.